Long Island Counterfeit Detector Pens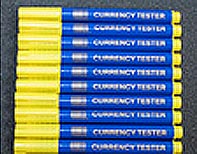 There are millions of counterfeit bills in circulation, and Long Island, NY is no exception to that stat! Make sure that you protect yourself against counterfeit bills with the Hamco Counterfeit Detector Pen. Simply mark anywhere on the bill – if the pen leaves an amber or yellow mark the bill is good. If the pen leaves a brown or black mark the bill is suspect. The Hamco Currency Detector Pen allows you to detect counterfeit money before you accept it.
Good for thousands of tests
Repeatedly recommended by law enforcement
Just one fake bill detected more than pays for this product.??
Hamco offers counterfeit pens in bulk supply of 10 Per Bag @ $30.00 Per Bag.
Want less than 10 pens? Combine with other products at $5.00 each.
As a leader in bulk paper supply in the Long Island area, we are able to serve a wide range of industries – banks & credit unions, gas & convenience stores, restaurants, engineering & architects, retail stores and more. All of our products carry the Hamco brand which means our customers can be assured of getting the same high quality product on each order.
Counterfeit Pens in Bulk Supply – Long Island, NY
Hamco offers next day service for commercial businesses in and around Long Island, NY. We also serve customers in West Hempstead, Queens, Brooklyn, New York City and the surrounding area.