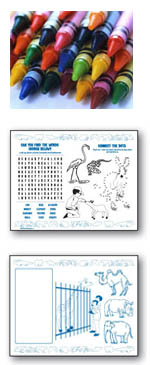 Placemats & Crayons
Every family friendly Restaurant needs something to keep the kids attention during the time the family is at the table. To help the adults enjoy the meal many offer the children a place mat with a printed design and crayons.
These crayons are considered "premium" because they are of their quality. They do not easily break and leave very little wax residue. They are disposable after the meal.
Placemat Designs: Animal theme (shown), Mexican theme, Seafood theme, Italian theme, Sports theme and Western theme.
CLICK HERE FOR PLACEMAT IMAGES AND PRICING 
CLICK HERE FOR CRAYON PACKAGE PRICING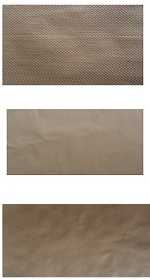 OTHER PLACEMATS
TEXTURED BUTCHER BLOCK PAPER
11″x17″- 1200 PCS. – $84.00
BUTCHER BLOCK PAPER
11″x17″- 1500 PCS.- $ 84.00
PARCHMENT PAPER – (Natural and white)
11″x17″- 2,000 PCS. – $84.00
Custom Printed Placemats
Your logo or art on a custom printed placemat. Standard placemat paper or on butcher block paper. 11″ x 17″, 14″ x 18″, or let us know the size you would like. Paper colors – white and natural tan.