Cleaning Cards
Cleaning Cards for reliable, care-free processing

There are three Cleaning Cards available as follows.

Clean Cards
For use on magnetic card readers that use credit, debit cards, time cards, security access cards, cards used in slot machines. Eliminates read errors and resulting costly dial up calls.

Clean card is packed 50 cards per pack, cost is $40.00 per pack.

GenWaf
Same use as above, but with waffle technology. This card provides significantly better cleaning as it has the waffle surface, a flexible platform, enabling a more thorough cleaning.

Gen Waf is packed 40 cards per pack, cost is $45.00 per pack.

Lucky Stripe Cleaning Card
Designed specifically for cleaning bill acceptors, vending machines, change machines and payment acceptors. Contains waffle technology which has the flexible platform to guarantee thorough cleaning. A typical machine is found in the supermarket self serve lines, where one payment option is cash.
Lucky stripe is packed 15 per pack, cost is $45.00 per pack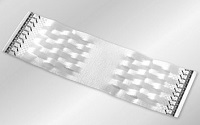 This is a card made with "Waffle" technology
"Keep swipe windows clean with a Hamco cleaning card"