Counterfeit Detector Pens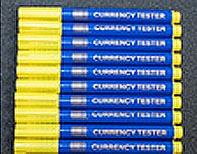 Did you know that you will not be reimbursed if you are given a counterfeit bill?
There are millions of counterfeit bills in circulation! With the advent of color photocopy machines and high resolution scanners and printers there has been a surge in casual counterfeiting.
The simplest and most reliable way to protect yourself against counterfeit bills is also the least expensive. The Hamco Currency Detector Pen allows you to detect counterfeit money before you accept it.
Simply mark anywhere on the bill – if the pen leaves an amber or yellow mark the bill is good. If the pen leaves a brown or black mark the bill is suspect.
Good for thousands of tests
Repeatedly recommended by law enforcement
Just one fake bill detected more than pays for this product.??
10 Per Bag, $30.00 Per Bag

Want less than 10 pens? Combine with other products at $5.00 each
.