Tamper Proof Seals
Restaurants and other ready-to-eat food suppliers, enhance the safety of your customers with these tamper-proof security labels for containers and bags. Made with a patented strong adhesive and a special tamper-proof zig-zag perforation to provide your customers with peace-of-mind. Available in 2″ round (perfect for containers) and 1.9″ x 6″ rectangle for bags, etc. in rolls of 500/4 rolls per box. Generic "Sealed for Freshness" label or custom labels with your logo and any additional information available; provide logo, all details and color for pricing. And not only are these labels for safety, but they also address Grub Hub® customer's #1 complaint 'missing French Fries!'
Food Packaging Supplies in Long Island and New York City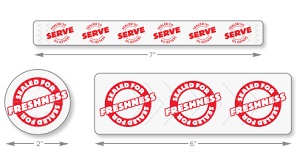 Tamper Seal Benefits

• Seals, secures and alerts of order tampering
• Visible packaging deformation with removal
• Best-in-class tamper-evident design
• Easily and efficiently hand apply
• Proven on-packaging performance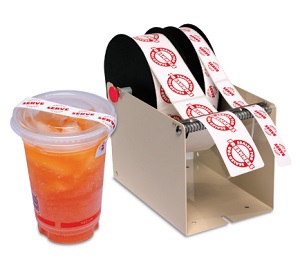 Tamper Seal Dispenser Features

• Durable all steel frame with powder coat finish.
• Dispenses die-cut or butt-cut labels.
• Accommodates multiple rolls of labels.
• Removable side caps for easy roll change out.
• Holds rolls up to 7″ diameter and 3″ width.
• Handles 1″ or 3″ diameter core size.
Please Call For Pricing.