West Hempstead Restaurant Crayons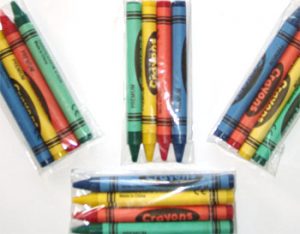 Looking for a quick way to entertain the kids at your restaurant while their parents enjoy a nice dinner? Restaurant crayons and coloring sheets are a great way to enable a better dining experience for your customers. We offer "premium"restaurant crayons that are made with quality in minds to that they do not easily break and leave very little wax residue. Hamco restaurant crayons are offered at an affordable price and can be disposed after each meal if desired.
Hamco Paper provides various bulk supply products for restaurants throughout West Hempstead, NY and the surrounding area. Crayons, Placemats, Guest Checks and more. As a bulk paper supply company, we are able to keep restaurant crayons in stock and ready for shipment. No matter what size request you are looking to fulfill in bulk order, we can fulfill it! We've built relationships with many owners in the food industry over the years and have earned their trust based on quality products and exceptional service.
Crayon Packs for Restaurants
4 Colors per Cellophane Pack
Green, Blue, Red, Yellow
Packed 500 Cellophane Packs Per Carton
Loose Crayons: Bulk packed 3000 crayons per carton, 750 of each color
Bulk Restaurant Supply Crayons Near West Hempstead, NY
Hamco offers next day service for commercial businesses in and around West Hempstead, NY – Garden City, New Hyde Park, Floral Park, Mineola, Westbury and Franklin Square. We also serve customers in Long Island, Queens, Brooklyn, New York City and the surrounding area.